Establishing a strong Local Brand Website presence on the internet ensures the visibility and recognition of your business. It brings significant benefits in terms of enhancing trust, interaction, and local customer search.
Local brand websites continue to be a trend
Consumers are increasingly interested in supporting local brands and products. Using local brand websites provides a convenient way for consumers to learn about and purchase directly from local brands, thereby contributing to the development and strengthening of the local economy.
Local brand websites allow brands to create a unique and personalized online experience. These websites often provide detailed information about the brand and its story, and help build interactive relationships with customers. This helps build trust and engagement between the brand and consumers.
Local brand websites help local brands reach and expand their market more widely. With the popularity of the internet and the increasing trend of online shopping, brands can reach potential customers not only locally but also from afar.
Utilizing local brand websites allows local brands to leverage the potential of local search engine optimization. This enables the brand to rank higher in local search results, increasing the chances of attracting website traffic and potential customers.
In summary, using local brand websites not only facilitates support for local businesses but also helps build connections, expand markets, enhance trust, and optimize local search visibility.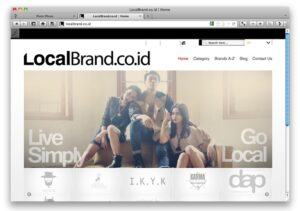 Essential features of a local brand website
Brand Information: The website should provide detailed information about the brand, including its story, core values, vision, and mission. This helps consumers better understand the brand and build trust.

Products and Services: The website should display a list of products and services offered by the brand. Each product/service should have a detailed description, high-quality images, pricing information, and inventory status.

Online Store: For brands selling online, an online store feature is necessary. This is where customers can add products to their shopping carts, securely make payments, and choose shipping methods. An order management system should also be integrated to efficiently track and process orders.

Blog or News Section: An important part of a local brand website is a blog or news section where the brand can share relevant articles, updates on new products, events, and other interesting information. This helps enhance customer interaction and build trust.

Contact and Customer Support: The website should provide clear contact information such as phone numbers, email addresses, and office addresses. Additionally, integrating a live chat or chatbot feature helps customers send inquiries and receive quick support.

Mobile-Friendly Interface: With the increasing use of mobile devices to access the internet, the website should be designed to be compatible with mobile devices. A responsive and user-friendly interface on small screens improves the customer experience.

Search Engine Optimization (SEO): Optimizing the website for local search is crucial. This includes incorporating relevant keywords, meta tags, and local business directories to improve the website's visibility in local search results.
By incorporating these essential features, a local brand website can effectively showcase the brand, products, and services, engage with customers, and drive business growth.
Local brand website – Estimated cost ranges
The cost to build a local brand website can vary depending on several factors, including:
Scope and scale of the website: A simpler local brand website with basic features will have a lower cost compared to a complex website with custom features.

Design and development: The cost of website design and development will depend on the complexity of the interface, customization, and any specific requirements. Factors such as user experience, mobile compatibility, and interactivity can also impact the cost.

Features and integrations: If you want to integrate features such as an online store, blog, live customer support, social media integration, or search engine optimization tools, the cost will increase accordingly due to the development and integration work involved.

Maintenance and upkeep: In addition to the initial build cost, it's important to consider the ongoing cost of maintaining and managing the website over the long term. This may include content updates, security, and periodic improvements or maintenance.

Development team: The cost may increase if you hire a professional development team or engage a web development company to carry out your project.
Investing in a well-designed and functional local brand website is a worthwhile endeavor for businesses looking to establish a strong online presence and connect with their local customers. It provides a platform for brand storytelling, product showcasing, and customer interaction, ultimately contributing to brand awareness, customer loyalty, and business success.
For example, you want to develop the local brand website to display the product:
| | |
| --- | --- |
| Feature | Cost Range |
| Basic Interface Design | $500 – $1,500 |
| Online Store Integration | $1,000 – $3,000 |
| Blog Integration | $300 – $800 |
| Search Engine Optimization (SEO) | $500 – $1,500 |
| Online Customer Support Integration | $500 – $1,200 |
In conclusion, a local brand website plays a crucial role in establishing and promoting a local brand's online presence. It serves as a digital storefront where customers can learn about the brand, explore its products or services, and engage with the brand's story. If you have any further questions or need assistance in developing your local brand website, feel free to reach out to CabXTech. Our team of experts is here to provide professional guidance and support to help you create a successful online presence for your brand.
Related article: Outsourcing Web Development Benefits and Risks in 2023